nanoERGIS films
nano

ERGIS® films

See how we produce nanoERGIS® stretch film

nanoERGIS®

The parameters of nanoERGIS® film are superior in comparison to its traditional equivalent. As a world class stretch film manufacturer we are proud of our nanoERGIS® which has three times greater resistance to mechanical damage such as tearing, local damage and cracking.

The structure of nanoERGIS® stretch film consists of at least 33 layers, which enabled to reduce the usage of this material for packing and optimal securing the load during transportation down to even 50%.

As a film manufacturer we advise our Customers on how to select a film that best meets their business needs. We also offer advanced testing at Ergis Load Stability Academy (ELSA).

Our range of products includes:
stretch film for machine applications – for automated wrapping onto loads; its thickness ranges from 12 μm to 35 μm and can be 500 mm, 750 mm or 1,000 mm wide;
stretch film for manual applications – for fast, convenient, cost-effective and reliable manual securing of loads; it can be 450 mm or 500 mm wide and from 8 μm to 30 μm thick.
Properties of
nano

ERGIS®

nanoERGIS® is a stretch film for the cost-savvy – it offers great tensile properties while remaining highly resistant to tearing, cracking and local damage. It reduces the cost of packaging goods by 50%. With the resilient nanoERGIS® stretch film there is no risk of damaging the cargo in transit, even in harsh conditions, such as frequent and rapid braking of the vehicle.

Transparent nanoERGIS® stretch film enables fast and fuss-free identification and scanning of labels. This, in turn, makes it easier to check whether the correct cargo has been loaded, both before and after its transport, without having to cut through the securing material.
Applications of
nano

ERGIS®

The nanoERGIS® packaging film is perfect for wrapping both individual small items and large loads on pallets. All types of cargo can be easily catered for due to the available range of film thickness and width. This Ergis product may also be used for wrapping luggage.

Ergis offers film for pallet wrapping machines as well as for manual packaging of both single items and bundled goods.

The nanoERGIS® pallet wrapping film saves the time required to prepare cargo for shipping and helps reduce packaging costs by up to 50%. The nanoERGIS® box and pallet wrapping film serves its purpose extremely well even in harsh shipping conditions, such as frequent or sudden braking.
Benefits of
nano

ERGIS®

The innovative nanoERGIS® stretch film helps obtain substantial savings related to the packaging and safe transportation of goods. With this innovative Ergis solution, the costs of packaging and securing cargo are reduced by up to 50%, while also minimising the time required. This is because the film offers the possibility of machine wrapping of pallets with cargo. With our stretch film, your goods are delivered intact.

Due to the unique properties of nanoERGIS® stretch film, optimum packaging and securing of cargo now requires less stretch film, even up to 50%. Our stretch film is, therefore, an eco-friendly product because its use reduces the amount of resulting waste.
Ecology
Thanks to its exceptional properties nanoERGIS® film is an eco-friendly product. Compared to other films used for proper and secure packaging of cargo, the consumption of nanoERGIS® is up to 50% lower, which, in turn, reduces the amount of waste and the cost of packaging.
Ecology film

GreenStretch film designed by Ergis, a leading manufacturer of stretch films, in compliance with the principles of circular economy – to support sustainable development of our customers.
The film contains up to 30% of recycled material. This is an eco-friendly solution which enables us to:
Reduce the amount of material from fossil fuel sources
Significantly reduce carbon footprint
Produce film in compliance with the principles of circular economy
Despite using material made of processed waste, GreenStretch film has excellent operating properties.
Pre-stretch capability of up to 250% – less film needed to pack a pallet and high efficiency of packing
Strong holding forces – safe transport of loads
Puncture resistance – no ruptures on the corners of pallets or protruding edges of cardboard boxes
100% recyclable

Our technical advisers from Ergis Load Stability Academy ELSA will help you develop and implement a solution, which involves choosing a film, developing a packing system and pattern, and calculating the costs of packing.
Hand GREENSTRETCH film
Hand GREENSTRETCH film contains at least 30% recycled post-consumer waste.
GREENSTRETCH film:
Reduces carbon footprint of up to 20%
Reduces amount of waste deposited in landfills
Reuses raw materials
Slows down consumption of fossil resources
ELSA
(Ergis Load Stability Academy)
The only such place in Poland!
ELSA employees specialize in selecting film for specific types of wrappers and various types of cargo. They solve problems that occur in the packing process, such as:

breaking of film;
excessive quantities of film used;
excessive costs of packing;
excessive wrapping time;
damage in transport; and
tilted pallets.

We analyze the current packing.

We check:

the quantity of film used;
the parameters of the wrapping program;
the technical condition of the wrapper.
the forces that improve the stability and the security of the goods
in transport (See how we measure the stabilizing forces);
the expectations of your customers.


Based on the information we have collected, we prepare solutions to be implemented, which include:

the best type of film for specific needs;
the wrapping program and pattern; and
calculation of the packing costs.
See how we measure the stabilizing forces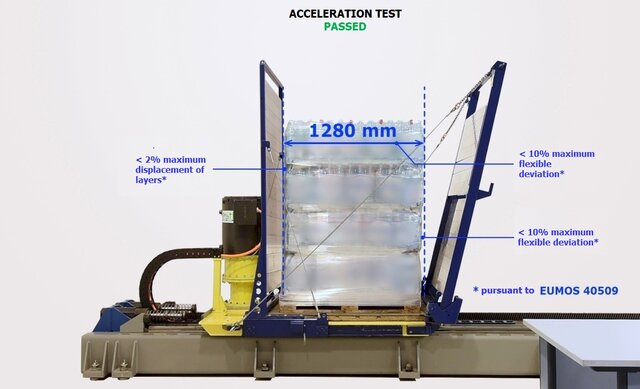 Conclusion in the form of a detailed report.


The implementation of the solution at the customer's site includes:

setting the wrapping parameters that have been determined;
measurement of the stabilizing forces; and
training of employees.


We provide technical support and regular checks of the process (to verify the forces that protect the goods and the quantity of film used).