Artificial leather
POROFLEX
The Ergis Group is a renowned manufacturer of PVC artificial leather. It is a very popular type of fabric that is used in many industries. Our standard offer includes nine types of artificial leather – high quality materials with different technical parameters. Each type comes in several colors and also features a different design. The products on offer are available at attractive prices and enjoy very good reviews from our customers.
Ergis Group offers artificial leather made of PVC under the trade name POROFLEX.
Artificial leather – Fabric with practical properties
The standard offer covers 9 types of artificial leather with various technical parameters.Each type is available in several colours and patterns.We offer artificial leather in a non-flammable version, both in compliance with the motorisation standard (ISO 3795) and the furniture standards PN-EN 1021-1 and PN-EN 1021-2 (the so called 'match and cigarette test').
It is possible to produce any colour according to a sample provided by the customer. If you cannot find in our offer any artificial leather that meets your needs and expectations, please contact us and we will try to offer you a custom product.
The repeatability of colours is rigorously observed. The colour difference between the consecutive batches fits the limit of up to 1 ΔE (spectrophotometric test) - this means it is invisible to the eye.
.
Basic application:
furniture and car upholstery;
fancy goods;
parts of work footwear;
work clothing;
gymnastic and rehabilitation mattresses.
Example colours: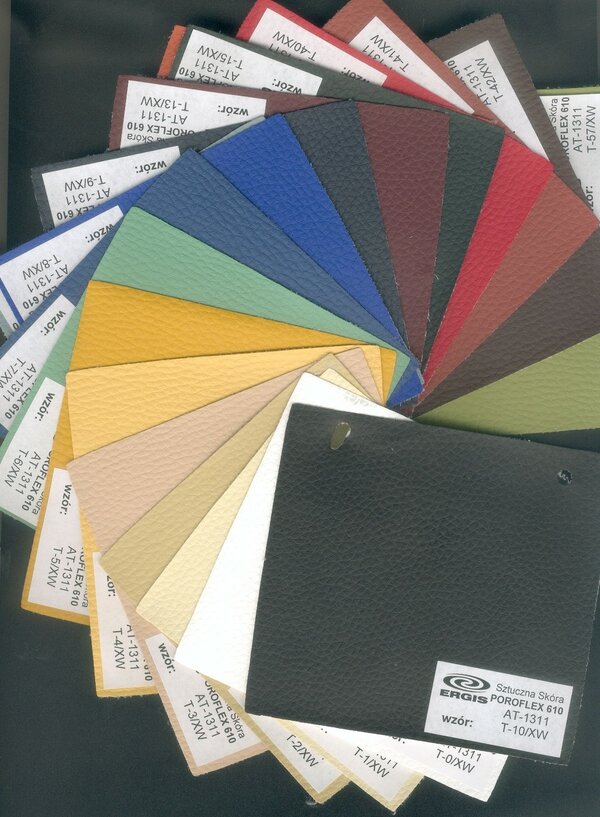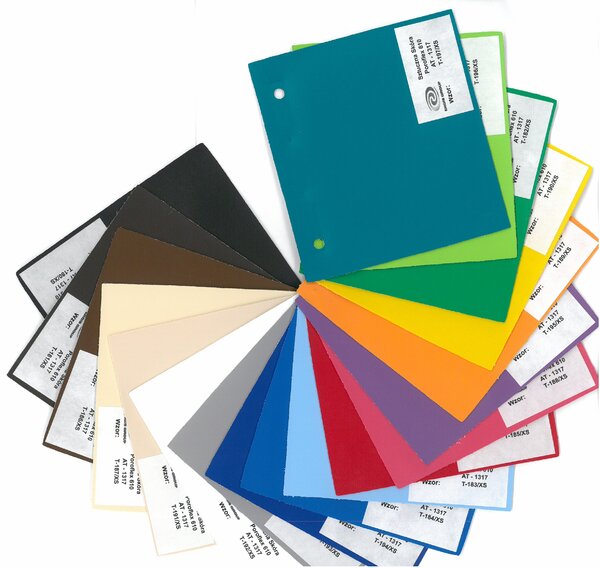 Basic composition – polyester knitwear (standard or scratched) covered with layers of softened PVC and, alternatively, finished with a PU layer.
The surface layer is characterised by high resistance to abrasion.
This is one of the most important properties of artificial leather. This material is extremely resistant to external factors, such as mechanical damage, weather conditions, moisture, temperature changes, as well as UV radiation and detergents. As a result, it is very easy to keep clean and retains its original appearance for a long time.
There are many advantages that make artificial leather so popular. This fabric is used in various ways, mainly because it is very similar to natural leather in terms of appearance, without the disadvantages of the latter.
The width of artificial leathers on our offer is 140 cm. If you have any questions about this product, please feel free to contact us by phone or email. We will be happy to provide you with additional information.