BOPP film
BOPP FILMS
Polypropylene film is most often sold in small or large rolls and is a versatile material used in many industries. Its popularity is due to its practical properties that allow it to be used in a variety of ways. Thanks to the development of technology, the manufacturer provides an ever better access to new types of BOPP film. As a result, the scope of its use is quickly expanding, which translates into an even greater popularity of this material among consumers. In addition, its extraordinary functionality significantly improves the convenience of its use.
APPLICATION
BOPP film may be used directly as packaging material or as a component of laminates. The product is characterized by a high degree of resistance to temperature changes and extraordinary resistance to various types of liquids, such as oils, liquid fats, and liquid chemicals. Thanks to its light weight, it does not increase the weight of the packaging. In addition, the material has extremely good barrier properties that ensure very low permeability of aromatic substances, as well as steam and oxygen. Moreover, thanks to its good visual properties, it improves the appearance of packaged products. It is most commonly used in the food industry as it helps to preserve the freshness of various types of products intended for consumption for a longer period of time.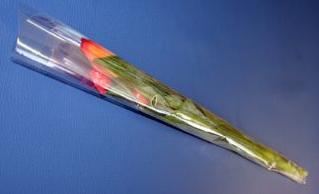 We have three professional bobbin cutting machines, which enable us to offer top quality services.
transparent films – tensilised, weldable on both sides, prepared for printing on one side only or on both sides, thickness from 15 to 50 µm. The films are resistant to fat, oils, organic solvents and acids. They are used primarily as monofilms or components of laminates for packaging for confectionery, pasta, tea boxes, dried fruit and vegetables, as well as tobacco products and cosmetics;
pearl white films – tensilised, weldable on one side only or on both sides, prepared for printing on one side only or on both sides, thickness from 28 to 60 µm. They are primarily used for packaging suitable for ice-cream, cosmetics and confectionery - mainly for chocolate products and cakes, due to its high mechanic durability, low water vapour permeability, high resistance to low temperatures, resistance to fat, oils and acids, and high yield due to low density;
metallised films – tensilised, thermoweldable, thickness from 15 to 35 µm. They are used primarily as components of laminates, together with transparent polypropylene films or with polyethylene (PE), occasionally as monofilms. The main customers of metallised films are fast food (snacks) producers and producers of ice-cream, wafers, chocolate bars etc. More and more often metallised film (in the form of laminate with PE) replaces aluminium foil used for sealing of products packed in thermoformed containers (yoghurt, jam, honey etc.) They are used mainly for packaging of products which require increased or high protection barrier against the influence of light or oxygen;
"florist's" films - tensilised, non-weldable, prepared for printing on one side only, thickness from 25 to 40 µm. This is a kind of transparent film of both-side high gloss finishing. It is mostly used for packaging of flowers or making bags for instance to pack view-cards, jewellery etc.
BOPP film – Price
The price of biaxially oriented film is fully adequate to its quality and possibilities of use. Thanks to the application of modern technology, the number of applications for BOPP film is constantly increasing, which makes it irreplaceable and gives it an advantage over other materials. Our company offers a wide range of products, including BOPP film, which is a high quality product with a number of advantages that guarantee its functionality.
BOPP film – Users' opinions
The product is gaining a growing number of supporters, as evidenced by the good feedback from our customers about films of this type. Every day we try to adapt to the needs of consumers and apply solutions that enable our products to meet even the highest expectations of buyers.