Films for medical covers for the patients
In connection with the difficult situation caused by COVID19, Ergis offers protective materials for hospitals, health centres, and other healthcare institutions. Our protective films for patients and medical personnel, used as curtains and covers, can safely enclose desired spaces while ensuring transparency and eye contact between the doctor or nurse and the patient. Our products are not sterile, but they help reduce contact between people, which is particularly important right now.
Protective films for medical covers and curtains
When providing care to patients, precautions should be taken in relation to both them and the provider. Protection, whether a curtain or a cover, enables the exercise of maximum caution when close contact with another person is required. Therefore, film for medical covers for the patients and personnel of healthcare facilities can be one of the ways of looking after the common good.
Ergis products prove to be very reliable for those purposes, and may be used in a doctor's office, operating theatre or hospital wards where patients recover after injuries, procedures, etc. Our products may be supplied to health centres, private healthcare facilities, and hospitals.
Protective films for patients and medical personnel – categories
Ergis delivers materials for curtains that offer good resistance to mechanical damage. These parameters make them effective throughout their lifecycle and reduce contact between the patients and the personnel of healthcare facilities to the minimum required. We offer two types of films for covers for patients.
Below is a short description and our offer:
1. Very soft materials, 0.1 mm thick, for use as barriers between medical personnel and patients. A roll is 135 centimetre wide and 296 metre long. The minimum order is one roll, which translates into 400 m2. Protective films for patients and medical personnel are always in stock. We add a few pictures to show how they can be used.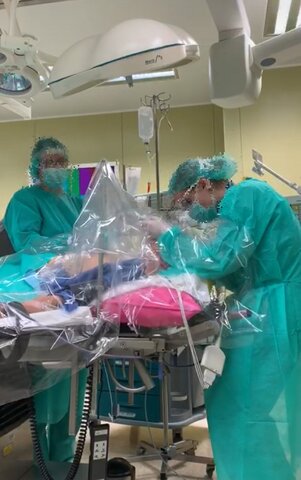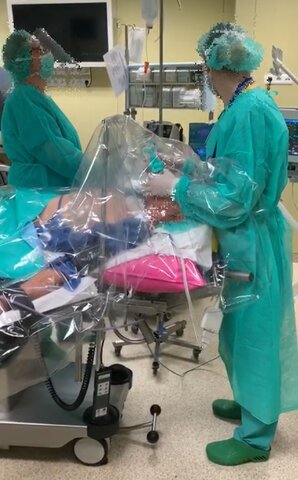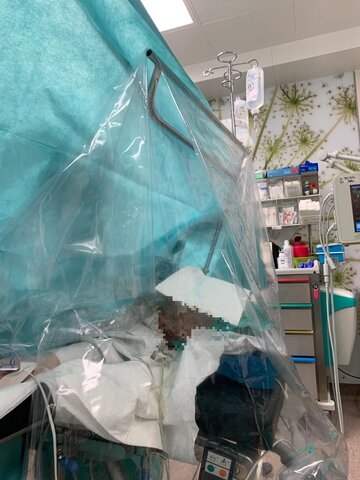 Width of the film: 135 cm
Roll length: 296 rm
Minimum order: (full roll) 400 m2
Available
2. Ergis also provides 0.5 mm thick films for curtains and covers for patients. Personnel can use them to separate the patient from the rest of the room. One roll contains 75 metres of material, which is 135 centimetre wide. The minimum order, to be placed by email or telephone, is 100 m2.
We strive to ensure continuous supplies to healthcare facilities, so we make every effort to have our products in stock all the time. We believe that the risk of infection can be reduced by using various preventive measures. Please contact us if you have any questions about our materials for medical and protective covers for patients and personnel. In addition to curtains, we also manufacture other protective products. Please read our full offering.
Width: 135 cm
75 rm on a roll
Minimum order: 100 m2
Available
Customer contact