Films for production of protective suits
Ergis specialises in the manufacture of various plastic goods for professional applications. Our products include both PVC films for making protective suits and ready-made gear used in the healthcare sector. We can also make clothing to different specifications to meet the needs of our customers.
ERGIS MED protective suits made of PVC film can be either colourless or mass dyed, with or without an embossed pattern. The material used for their production can be 0.06 mm or thicker. The inner layer is made of white polypropylene fabric, which makes our gear more durable and more resistant to damage. As a result, it can be used in difficult and challenging environments.
Reliable films for protective suits and gear
PVC products from Ergis are developed on the basis of many years' experience and using the capabilities of our cutting-edge machinery and equipment. Those factors ensure that both the materials and the clothing made of them guarantee excellent user experience.
Our films for production of protective clothing are always made to meet the unique expectations of every customer. Customers can, therefore, rest assured that the work gear ordered from Ergis will prove effective in their specific circumstances. Our experts offer advice to help with the selection of appropriate PVC protective suites and other workwear. Although our ERGIS MED products are dedicated to healthcare, we also make clothing for other applications, for example industrial plants.
PVC protective suits – specification
| | | |
| --- | --- | --- |
| Size | Chest (cm) | Height (cm) |
| M | 92-100 | 168-176 |
| L | 100-108 | 174-182 |
| XL | 108-116 | 180-188 |
| XXL | 116-124 | 186-194 |
What is the finishing on our clothing? Every product has a single-zip fastener, covered by a special pleat. Moreover, it is finished with an adhesive tape to prevent any exposure to hazardous factors. For the same reason, sleeves and legs are finished with an elastic which stays tight to the body. PVC film for protective suits has also an elastic on the back, at waist level. It ensures that the clothing perfectly adapts to an employee's silhouette.
We provide our gear in four sizes: M, L, XL and XXL. As a result, every person is ensured workplace safety, regardless of their build. Finishing quality is also improved by a drawcord in the hood and a stand-up collar that ensures that the neck is tightly covered too.
PVC films for protective suits – how to buy
Our products are dedicated to companies and institutions that need well-tried and damage-proof solutions. Ergis can provide you with clothing and materials that really help improve the safety level in your offices or facilities. Please contact our representative to place an order or for more details about our products. Just click on the button below or the Contact tab at the top of this page.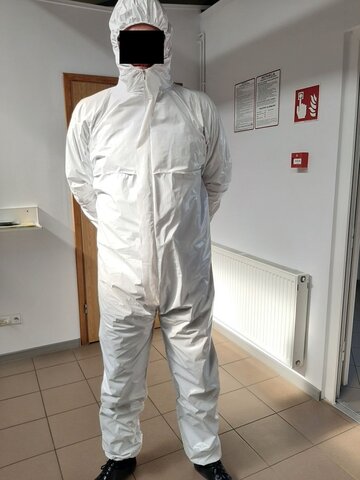 Customer contact